Utopian Villas Park Model RVs & Tiny Homes
Here at Utopian Villas, we specialize in designing and building hand-crafted, luxury tiny homes that we call Utopian Villas. Our unique tiny houses go above and beyond the other manufactured park model homes on the market, and only in a Utopian Villa tiny house will you find this level of customization and quality. We understand the importance of providing one-of-a-kind villas for each and every customer we work with.
The Utopian Villas Difference: Quality, Customization and Luxury Amenities
By now, you've probably seen an array of different tiny home models, and after a while, they can all start to look the same. How can you know that you're getting the best one for your money? Utopian Villas luxury tiny homes are custom designed with unique amenities that you won't be able to find anywhere else. Always being built to your exact wants and desires!
Not into camping? Try glamping.
All the fun but a little more glamorous!
Utopian Villas park model homes, tiny homes, and permanent foundation set models all feature products from top of the line brands, including Wolf™ cabinets, LED lighting, Whirlpool® appliances, Pella® windows, Kohler® plumbing, and more. Additionally, we use a distinctive, patented floor system in all of our villas.
This is so important because it is the foundation to your home and along with its strength, it holds all your plumbing and mechanicals out of the weather. Be it -30 or 110 outside, rest assured that your comfort will be, let's say, comfy.
When it comes to finding the best luxury tiny home manufacturer, Utopian Villas has everything you've been looking for.
Our goal here at Utopian Villas is to create something that's so far above and beyond any other custom tiny home builder that we rank in a class of our own. We do this by carefully designing every aspect of our tiny home models, which ensures that each of our customers get the most out of their own Utopian Villas tiny home.
Some people call it a "cabin RV"
Take a walk through Utopian Villas Denali park model!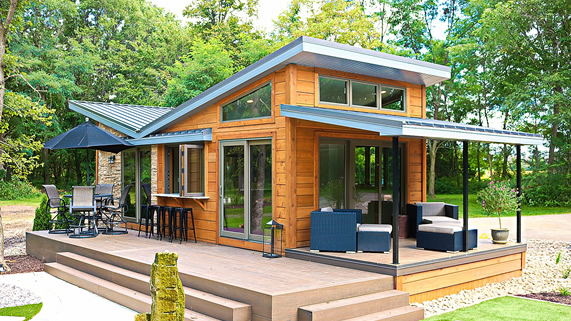 Leading Luxury Park Model & Tiny Homes Builder
Each custom park model that we build is designed to meet every customer's needs. As high-end tiny house builders, we are committed to constructing each tiny home with the best materials available, giving each customer a dependable home with top-quality features. We make sure that all of our unique tiny homes have what you desire in a full size home, with a wide selection of designs for sale.
Get Your Own Utopian Villa High End Tiny House
If you've been looking for the best manufacturer to buy tiny houses from, you've come to the right place. Learn more about the Utopian Villas high end tiny house difference today. Explore our Models page to see which one is right for you and your family, then call us at 414-762-0950 or email us to get more information about how you can get started making memories in your own Utopian Villas tiny house.