Are Tiny Homes Replacing RV's?
Tiny homes are all the rage. Offering a downsized version of any modern home, these smaller structures are giving homeowners choices they never knew existed. Despite their size, these miniature houses are full of style — and high-end amenities.
As the tiny house craze escalates, many RV lovers are wondering if these mini-houses are becoming a camper alternative that could push RV's aside.  While some may think so, the fact remains that there are some substantial differences between RV's and tiny houses.
If you are looking into the benefits of tiny house living, portable campers or even park models may have caught your eye. Now you may be wondering why you would invest in a tiny home over a standard ready-made RV. There are a lot of reasons why tiny houses are better:
They Are Made for Permanent Living
Tiny homes are not a good RV alternative for those who seek on-the-road adventure. They are a wonderful option for people who plan to stay put.  Unlike RV's tiny homes are not really meant to move around (much). Yes, they are on a chassis, but that is usually only to comply to real estate real estate laws, municipal zoning codes and other permanent home requirements.
Because of their weight and size, most tiny homes are built for permanent placement. Most manufacturers do not suggest moving a tiny house more than once a year.
But that is not the only thing that makes these homes more permanent. Tiny homes are also:
Structured to live in regardless of the weather. Featuring more insulation and better heating and cooling systems, these small houses are made to keep your family cozy and warm during the worst winter weather or summer heat.
Made to hook into municipal services. RV's typically need to be plugged into electrical posts, sewage and water lines through hoses and extension cords. Tiny homes, on the other hand can be built to hook into municipal services just like any other house on the block.
Look and feel like a real home. Let's face it, no matter how nice a camper is, they are not built for you to live in all of the time.  Tiny homes, on the other hand, are made to support a family through all of the phases of their life. Featuring the kind of amenities you expect in your home, tiny homes come equipped with everything you may need in your day-to-day life.
Tiny Homes Are Completely Customizable
When you buy a tiny home, you are buying a custom built home.  From the first design to the final construction, each homeowner is made a part of the team to ensure that every aspect of the house fits their lifestyle.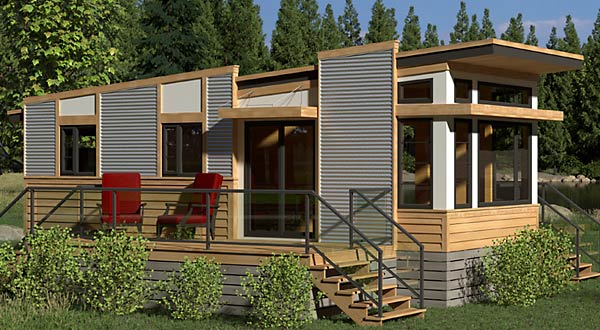 Tiny homes equal larger lives. They may be small in stature, but that doesn't mean that tiny house dwellers are giving up anything in their home. Equipped with the most modern amenities, these high-end homes are just as stylish as any other new construction. Featuring stylish woodwork, trendy hardware, innovative storage and classy decorative touches, tiny homes look just as beautiful and feel just as sophisticated as the most elegant mansion.
When you hire a tiny house builder to construct your new home, you are hiring a professional who considers that you want more than a tiny house – you want a home.  That is why it is important to choose a builder like Utopian Villas, who knows how to design and build beautiful homes – no matter what their size.
Tiny house living isn't about giving up space; it's about getting exactly what you want.  Your home should be the place where you can relax and enjoy your friends and family. Why not begin by creating the kind of space that exemplifies who you are – and what you love most.
Ready to start designing the tiny home of your dreams? Contact Utopian Villas to discuss your needs today!